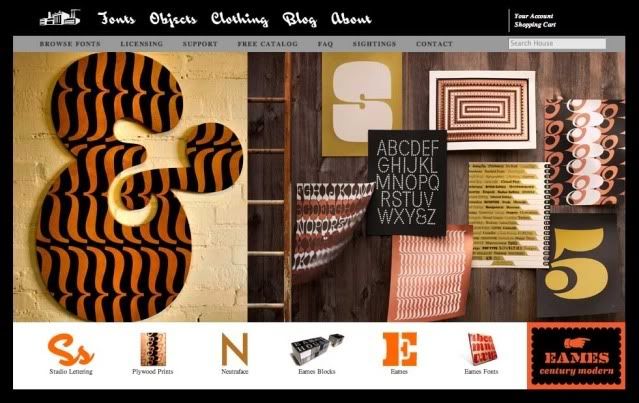 I've got nothin' but love for the fine folks over at House Industries. Here is what they have to say about themselves over at House:
Known throughout the world as a prolific type foundry, House Industries has made a considerable impact on the world of design. House Industries fonts scream from billboards, wish happy whatever from tens of thousands of greeting cards, serve as the basis for consumer product logos and add elements of style to a wide range of mainstream media. In their illustrious career, House artists have mastered a large cross-section of design disciplines. Their typography deftly melds cultural, musical and graphic elements. From early forays into distressed digital alphabets to sophisticated type and lettering systems, House Industries' work transcends graphic conventions and reaches out to a broad audience. What ultimately shines in the House Industries oeuvre is what always conquers mediocrity: a genuine love for their subject matter. Be it hot rods, classically relevant lettering or Swiss Modernism, House continues to provide typographic optimism in this age of the lowest aesthetic common denominator.
I certainly get the sense that their House is built on the love for design. I'm going to have to snatch up some prints for my new place...the burnt-retro-orange color scheme they have going on here will match my new recliner perfectly! Which leads to the big news on the horizon...the Oh, Deer! studio is moving! woo hoo! I've found a lovely new place outside of Nashville and will be shifting my worldly belongings over the next 2-3 weeks. I spent my weekend at local auctions and the like looking for diamonds in the rough to restore. I lucked out with some serious gems. I'm an big fan of "recycling" furniture. Buying antiques and revamping existing furniture is, in my eyes, the greenest way to go. So, with some steel wool, stain and a little elbow grease I now have some new pieces. Familiar with Stiffel Lamps? Well, I nabbed a set for $15...they are actually worth over $100 a piece...so you really never know what you are going to find!! Antiques Road Show anyone? haha. I really had a blast and a half at the auction...seriously, if you don't know what to do on a Saturday night, go to an auction. You will not be disappointed for a number of reasons. Just go, you'll know what I'm talking about when you get there. Ciao!